Where Quality Meets Sweet Profitability
Introducing Seawind Food's '100 Grand'Campaign! Where quality ingredients meet sweet profitability – Seawind Foods (Your Lifesaver). Since 1987, we've been the trusted source for all-natural dehydrated fruits, vegetables, and spices, free from harmful additives like sulfur dioxide. Be part of our 'Lifesaver' journey to '100 Grand' success. Download the PDF to Learn More.
Latest Post
The New Superfood: Green Banana Flour
If you are in the food industry and are looking for gluten-free, grain-free, and low-carb flour, you can't ignore green banana flour. This superfood is as nutritious as it is versatile. It is capturing attention because it is rich in nutraceuticals and has many health benefits.
Brochures
Seawind Vegetables
Seawind uses the most healthful ingredients and processes to create its products and has earned key certifications for quality from the Food and Drug Administration (FDA) and United States Department of Agriculture. Seawind sources its ingredients from carefully selected partners throughout the world and keeps a direct relationship with growers.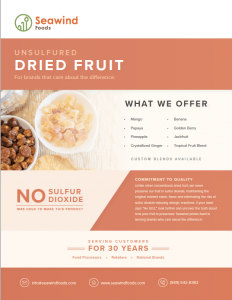 Seawind Fruits
Unlike other conventional dried fruit, Seawind never uses sulfur dioxide to preserve our fruit, maintaining the original nutrient value, flavor and eliminating the risk of sulfur dioxide inducing allergic reactions. If your label says "No SO2," look further and uncover the truth about how your fruit is preserved. Seawind prides itself in serving brands who care about the difference.
Videos
What Our Clients Are Saying
"I have been working with Seawind for over 10 years and find their dried fruit products to be the highest quality available in the low sweet, preservative-free category. At KeHe, we are dedicated to distribute premium products and the Seawind True NO SO2™ fruit meets our criteria."
– Maria Burrow, Vendor Manager Bulk, KeHE
"I finally got a chance to taste the sample you sent and they were GREAT! I really like the texture and taste of the products. The fruit is very pleasant to look at with the great fresh looking colors and the size of the fruit. And the taste was so good. I was amazed that I liked the Ginger, since before when I tasted bulk Ginger it was really strong tasting and I did not like it."
– Linda Davis, Key Account Manager, UNFI
"At Anahola Granola, we pride ourselves in making healthy granola using ingredients that are unadulterated. That is why, for the past 25+ years, we have selected Seawind's True No SO2™ dried tropical fruit; it is never treated using the toxic chemical, sulfur dioxide."
– Becky Burns, Owner, Anahola Granola
Recent News